In the Marche, in the province of Pesaro Urbino, the City Council of the municipality Of Cantiano joined the initiative "1 Euro Houses".
Located at the foot of Mount Catria, set in a breathtaking natural environment, Cantiano is a small village of Medieval Origin awarded the Orange flag.
The Old Town comprises mostly stone-built houses, ancient churches and museums.
The surrounding area is equipped with walking, biking and horse riding paths. Of particular naturalistic interest is the Natural Park Of the Wood Of Tecchi where secular beech trees coexist with microscopic mosses.
Every year on Good Friday the inhabitants of Cantiano reenact the Turba: a sacred, in-costume representation Of The Passion of Jesus Christ
The most typical products of Cantiano are Chiaserna Bread made with spring water; The Sour Cherry of Cantiano a type of wild cherry used for the preparation of jams, fruit in syrup and of the visciolate: a sweet wine for tasting or dessert; the fine white truffle of The Balbano Valley; The "Horse of Catria", a strong, robust breed, of ancient origins, whose name derives from the Mount Catria; mount which Dante Alighieri mentioned in his Comedy as the "Gibbo".
Comune di Cantiano
Piazza Lucesoli,3,
60444 Cantiano PU
Tel +39 0721 788321
mail: comune.cantiano@emarche.it
http://www.comune.cantiano.pu.it/

Regione
Marche
Provincia
Pesaro Urbino
Abitanti
2206
Altitudine
360 metri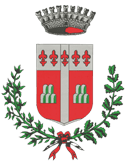 Municipality of Cantiano
Piazza Luceoli 3
61044 Cantiano PU
Tel +39 0721 788321
comune.cantiano@emarche.it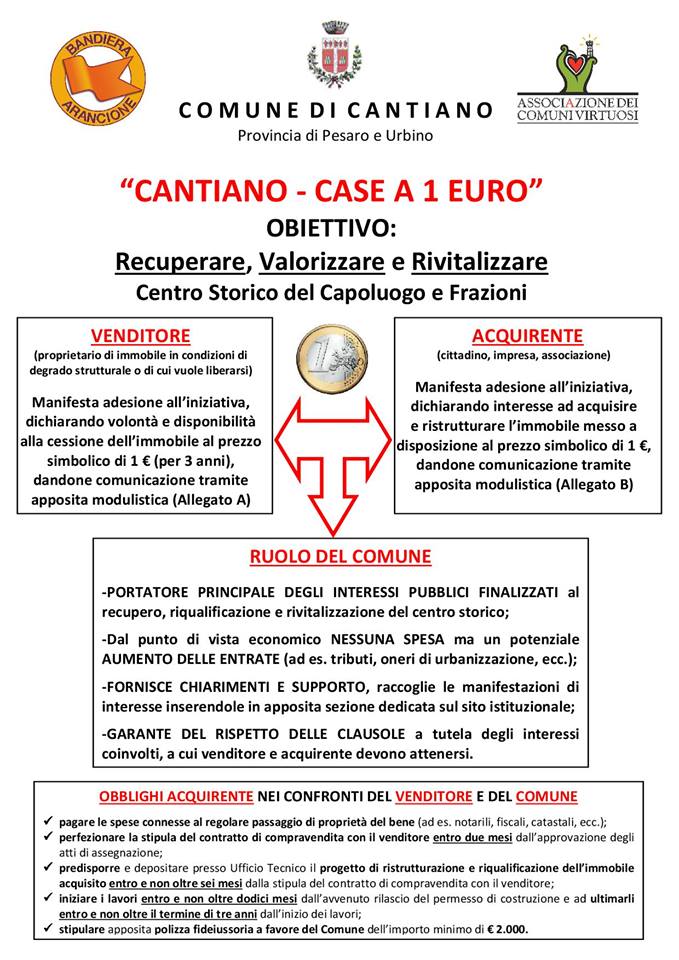 How does it work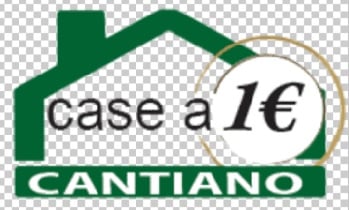 The owner of an antique property sells it to the municipality for the price of €1
The Buyer express interest in acquiring and restructuring the property at the symbolic price of €1, communicating it to the muncicipality
The obligations of the Buyer towards
the Seller and the Municipality
Payment of the expenses related to the change of ownership
Finalizing the purchase within 2 months of the approval of the acts
Within 6 months of signing the contract, the project of restructuring and upgrading of the property must be registered with the Technical Department of the Municipality
Start works within 12 months of obtaining the construction permit
Finishing works within 3 years of their inception
Stipulate a guarantor policy in favour of the Municipality for a minimum of €2,000
ROLE OF THE MUNICIPALITY
The Municipality is the main bearer of the public interests described in point N. 1 of the guidelines, and is also the guarantor of compliance with the clauses envisaged to protect the interests involved.
Provides stakeholders with clarification and support as well as collecting and selecting expressions of interest; it has no title to interfere and intervene in the negotiations and generally in the relations of private type that will be established between seller and buyer as they are outside the institutional purposes.
---
For Further information, please contact the Technical Department of the Municipality of Cantiano
---