Questo articolo è disponibile anche in:

Italiano (Italian)
The 1 Euro Houses Project is a phenomenon that expands to many Italian municipalities. The 1 Euro Houses project in Italy was an initiative created for the first time in Gangi in Sicily. The goal of the 1 Euro Houses is to repopulate the abandoned villages in Italy, and rehabilitate the typical houses of the territory.
At the moment, many houses remain sadly abandoned. As the owners have not interest in living there, the houses are left to decay. Meanwhile, the owners continue to pay expensive taxes, without the opportunity to sell. The 1 Euro Houses Project gives the possibility to these owners to sell the house at the symbolic price of 1 euro, giving the property to those who want to live there. The buyer needs only to make the house suitable again, renewing what needs to be renovated to live there in tranquility.
But where are the 1 Euro Houses and how the purchase process works?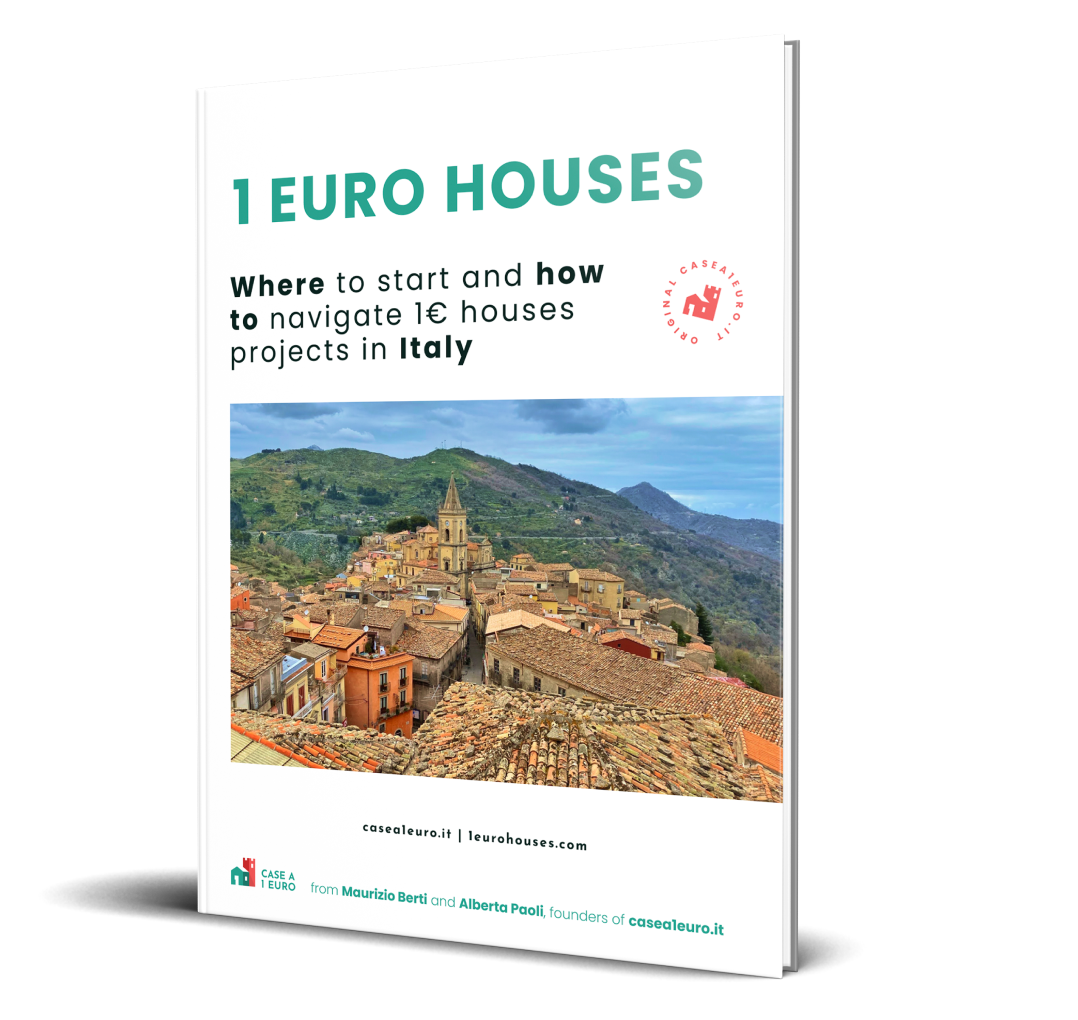 Here's how to buy a house for € 1 with our ebook
Available in English, French and Spanish in PDF and epub format.
How to buy 1 Euro Houses in Italy?
How to find available 1 Euro Houses in Italy?
How to plan for the purchase and renovation?
After the purchase, you will receive access to the ebook via email. The file must be downloaded within 48 hours of purchase. If you have any questions about the purchase, we are available via email.
1 Euro Houses are present in more than 30 municipalities in Italy
The 1 Euro Houses project has been developing for years, getting international attention since 2019. The most famous cases are certainly the municipalities of Sambuca di Sicilia, Mussomeli and Cammarata, where they sell all the houses available in a short period. In addition to 1 Euro Houses many houses were also sold on the regular real estate market or on auctions, organized by the municipality.
With the heartfelt Sicilian success, many municipalities in other Italian regions have joined the project. Today, the 1 Euro Houses are available in all regions of the south, the two main islands, expanding into central and northern Italy.
The list of regions where you can find the 1 Euro Houses:
Sicily
Sardinia
Calabria
Basilicata
Apulia
Molise
Campania
Abruzzo
Lazio
Marche
Tuscany
Liguria
Lombardy
Piedmont
Aosta Valley
Our team has been perfecting for years the complete map of the municipalities participating in the 1 Euro Houses Project. For each municipality we collect data and information related to the organized project. In addition, we also try to propose and promote their territory. We add information about cultural activities, natural beauty and typical cuisine. This information offers a complete picture of the country that is not limited only to the sale of 1 Euro Houses.
To see all the municipalities participating in the 1 Euro Houses, you can visit the complete map,created by our team.
Data Source: Diana Cavalcoli: Corriere della Sera
Go to the list of municipalities participating in the 1 Euro Houses Project