Questo articolo è disponibile anche in:

Italiano (Italian)
The 1 Euro Houses Project in Nulvi continues successfully. Four properties are available.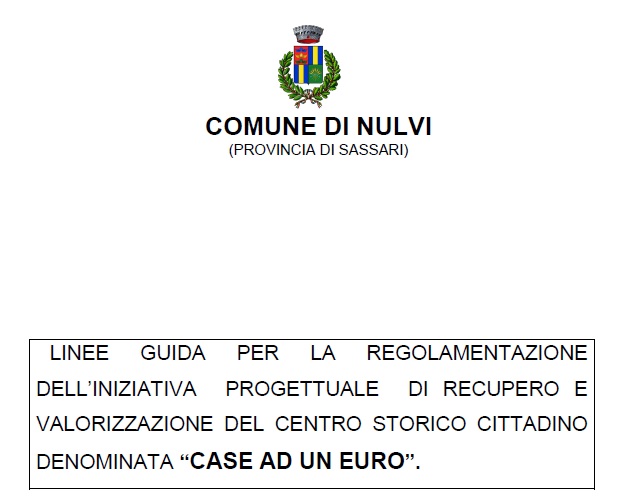 ---
Nulvi, a village of about 3000 inhabitants in the province of Sassari, is a village that has been for centuries the main center of Anglona, a historical region of northern Sardinia. In the 1960s a big depopulation hit the village.
The municipal administration, on the way to this new initiative of the Houses at 1 Euro and its modalities, decided to put in place a project related to the availability for the acquisition at a symbolic price of old and decadent properties to be allocated for private purposes, co-housing or tourist accommodation by private individuals, agencies, companies, and associations.
After all, who wouldn't like to have a second home in Sardinia to spend their holidays? In Nulvi, the houses are just 15 minutes from the beautiful sea of the island's northern coast. Currently, there are five houses available, some in good condition: it takes 20 thousand euro to renovate them and the municipality does not place the residence constraint – explained the first citizen of Nulvi – "so the important thing is that people arrive in our country, even only for ten days a year."
A small jewel, the old town of Nulvi, which preserves intact the charm of its streets, its squares, but with the passage of time, has witnessed the decay of some of the buildings that compose it and characterize it. The area of the center is characterized by the presence of unused properties, dilapidated and sometimes totally degraded, which weigh on the owners due to the costs related to taxes, the difficulties of sale and the complex dynamics related to the numerous co-owners. The municipality will be active in order to redevelop the entire old town and revive its country full of history.
Nulvi Municipality
Vittorio Emanuele Course 6007032 Nulvi Sassari
Telefono + 39 079 5579010
Assessore all'Urbanistica Luigi Cuccureddo
ellecuccureddu@gmail.com
Download the documentation to find out how to participate in the project 1 Euro Houses (Case a 1 Euro)
MANIFESTATION OF INTEREST IN THE ACQUISITION
NOTES ON EXPLANATORY REPORT EDITING
Case guidelines for one euro. Nulvi pdf
Exhibit A Event Form Owner Interest
SCHEDA No. 7 WINNER BECALS – 5 (1)
SCHEDA No. 6 ADDIS FERDINAND And (1)
SCHEDA No. 5 CAMPUS MARIA ALMA
Regione
Sardegna
Provincia
Sassari
Abitanti
2789
Altitudine
460 metri