Questo articolo è disponibile anche in:

Italiano (Italian)
Argentine Ambassador Betina Pasquali De Fonseca decides to establish her second home in Cantiano. With the purchase of one of the 1 euro houses, the ambassador, currently established in Oslo, finds a home in the Marche region.
The reception was performed by the mayor of Cantiano Alessandro Piccini. The visit and the desire to buy a house at 1 euro from value and weight to the project of the municipality. The aim continues to be the repopulation of the small town and the renewal of abandoned houses in the city center.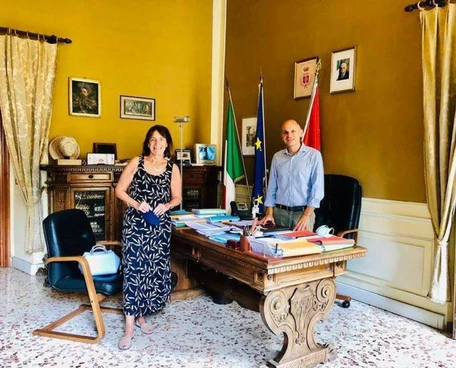 In 2021 we have seen many stories of those who come to Italy from abroad, looking for their home for 1 euro. We are happy to see that Cantiano has also found people interested in the project. Cantiano is for now the only municipality in the Marche region adhering to the 1 euro houses project. In the team of our site we hope that with this news and similar stories other municipalities in the Marche recognize the value of this action.
For more information on the 1 euro houses project in Cantiano, visit the website here.
Source: Il Resto del Carlino
Go to the list of municipalities participating in the 1 Euro Houses Project