Updated August 27, 2020
We are happy to publish some great news from the municipality of Montieri
---
Project completed
"1€ houses"
in the municipality of Montieri
---
"1€ houses in Montieri, at the price of an espresso" is the provocation of the municipal administration that proposes the sale of dilapidated and abandoned properties.
1€ houses is the reference to something symbolic, the guideline of the initiative that has allowed to have an important media resonance.
The municipality of Montieri, in the hopes to save and revalue its territory and the ancient country, is the facilitator between supply and demand for the sale of houses and 1€.
The goal of the municipality is to encourage private individuals to invest the abandoned real estate assets at the symbolic price of 1€ through a contract of sale in which the buyer undertakes to renovate the property in three years. If not, the property is returned to the original owner.
The houses are in a state of neglect and dilapidation,with falling fixtures, degraded plasters, problems with their roofs, currently without connection to water or electricity.
At a time when the municipality wants to give tourists a chance to visit the territory, it gives also a chance to those who do not intend to live here permanently but would like to have a permanent vacation house here. This way, the properties in the historic centre are restored and not left in a state of abandonment indefinitely.
The initiative that is taking place since 2016 has already led to the sale of about 15-20 houses, sold at different figures from the initial 1€, but still sold at a very affordable price.
Someone has opened a B&B, which increased tourists numbers, thank to theinitiative "Houses for 1€ in Montieri, for the price of an espresso".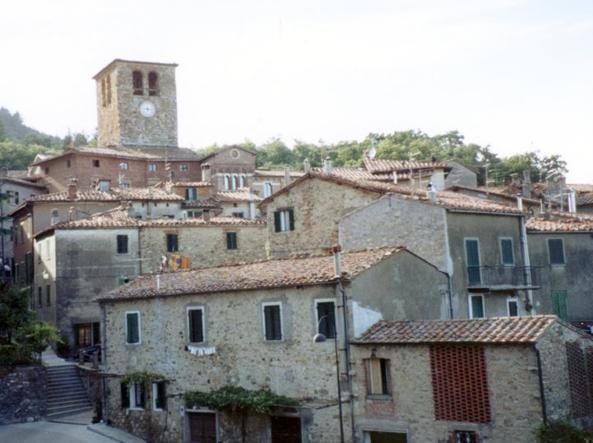 At 700 mt above sea level, the village of Montieri stands amidst a rich vegetation, with oak, beech and chestnut woods surrounding it. It lies on the northern flank of the mountain that bears the same name. Montieri owes its glorious past as a mining castle to the incredible richness of its subsoil, linked to the presence of minerals (sulphides) containing silver and copper.
The town preserves its medieval atmospheres to this day. 5 minutes from the village, a road rises in the dense vegetation and leads to the secular chestnut grove called Il Piano (an area equipped with refreshment) crowded during the Summer by visitors looking for rest or a starting point for wonderful walks along the existing paths and tracks with, signed as CAI and Geoparco, to discover tunnels and mining tracks. Keeping on the paved road, or preferring a trekking path, a majestic Iron Cross will signal you to have reached the panoramic point of Poggio Di Montieri, from which the view ranges from Mount Amiata to Corsica.
Regione
Toscana
Provincia
Grosseto
Abitanti
1232
Altitudine
704 metri
---
MUNICIPALITY OF MONTIERI
Piazza Gramsci, 4 – 58026 Montieri – GROSSETO
---
---