This post is also available in: Italiano (Italian)
"Case a un euro a Montieri, al costo di un caffè" è la provocazione dell'amministrazione comunale che propone la vendita d'immobili fatiscenti e abbandonati.
Case a 1 euro è il riferimento a qualcosa di simbolico, la linea direttrice dell'iniziativa che ha permesso di avere una risonanza mediatica importante.
Il Comune di Montieri per salvare e rivalorizzare il proprio territorio e l'antico paese fa da mediatore tra domanda e offerta per la vendita delle Case e un euro.
L'obiettivo del comune è incoraggiare i privati a dismettere il patrimonio immobiliare abbandonato alla cifra simbolica di 1€ attraverso un contratto di compravendita nel quale l'acquirente si impegna a ristrutturare l'immobile in tre anni, pena la restituzione all'originario proprietario.
Si tratta di case in stato di abbandono e di fatiscenza, con infissi cadenti, intonaci degradati, problemi al tetto e alle coperture, mancato allaccio ai gestori di luce e acqua.
Nel momento in cui il comune voglia dare slancio turistico al territorio, si contrappone con chi non ha intenzione di vivere qui e di manutenere gli immobili possa lasciare dei ruderi all'interno dei centri storici in tale stato di abbandono.
L'iniziativa che ha preso luogo dal 2016 ha già portato alla vendita di circa 15-20 case vendute a cifre diverse di 1 euro ma a prezzi molto convenienti e ancora desta tanto interesse sia in Italia che all'estero.
Qualcuno ha aperto un B&B e i turisti sono aumentati grazie all'iniziativa "Case a un euro a Montieri, al prezzo di un caffè".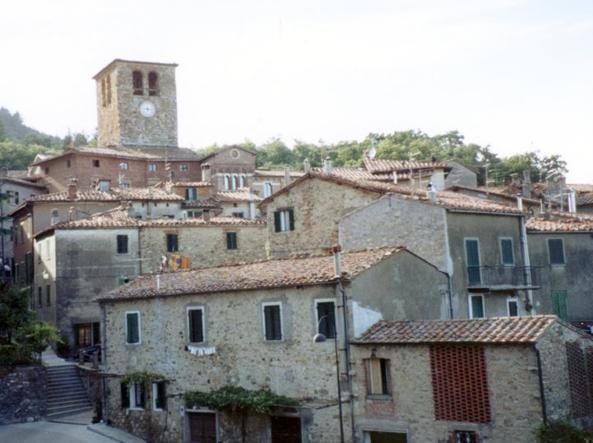 At 700 mt above sea level, the village of Montieri stands amidst of a rich vegetation of woods of oaks, beech and chestnut trees. It lies on the northern flank of the mountain that bears the same name. Montieri owes its glorious past as a mining castle to the incredible richness of its subsoil, linked to the presence of minerals (sulphides) containing silver and copper.
The town preserves its medieval atmospheres to this day. 5 minutes from the village, a road rises in the dense vegetation and leads to the secular chestnut Grove called Il Piano (an area equipped with refreshment) crowded during the Summer by visitors looking for rest or for a starting point for wonderful walks along the existing paths and Tracks with the signs CAI and Geoparco to discover tunnels and mining traces. Keeping on the paved road, or preferring a trekking path, a majestic Iron Cross will signal you to have reached the panoramic point of Poggio Di Montieri, from which the view ranges from Mount Amiata to Corsica.
Regione
Toscana
Provincia
Grosseto
Abitanti
1232
Altitudine
704 metri
---
MUNICIPALITY OF MONTIERI Piazza Gramsci, 4 – 58026 Montieri – GROSSETO
---
Tel. +39 0566 90631 Centralino Unione di Comuni +39 0566-906111 e-mail:info@comune.montieri.gr.it Mayor: Verruzzi Nicola e-mail: sindaco@comune.montieri.gr.it Phone: +39 0566 906334 http://www.comune.montieri.gr.it/il-comune/sindaco/verruzzi
---